---
Sacred island of sanctuary
Eileen Battersby
the Irish Times in May 2003
Hopes of seeing barnacle geese preparing for their annual return flight to Greenland for the summer drew us to Inishmurray, an island off the Co Sligo coast. As with any sea trip, good weather alone does not guarantee a successful passage. The sea must also be calm, particularly when disembarking at the island necessitates a neat hop, step and jump onto slippery rocks, as on this Atlantic Haven. Even when the wares slapped determinedly against the sides of the fishing boat, at times splashing over our heads and into our faces, luck was with us. The skies remained hazy blue, and the noisy gulls gathering overhead semed more welcoming than their usual heckling selves.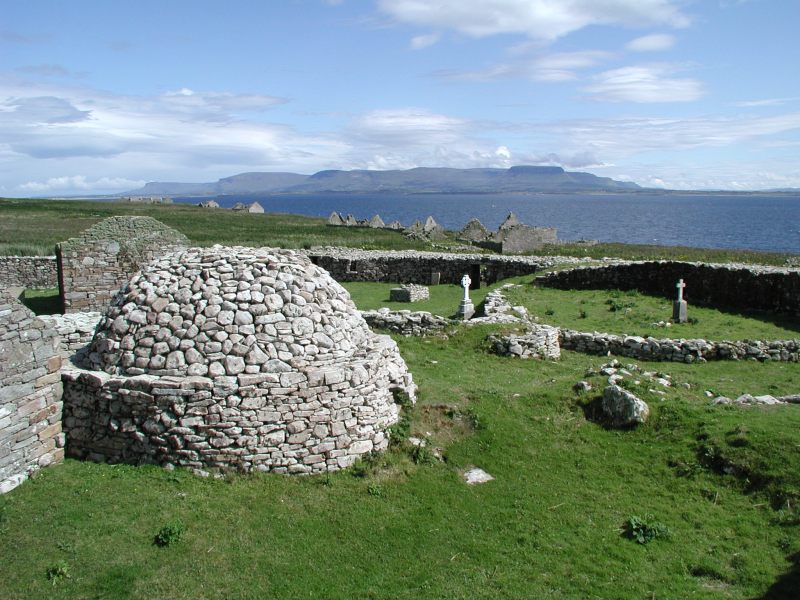 On we sailed, waiting for the first sight of the island and the geese. Among the pilgrims were artist Seán Mc Sweeney and writer Dermot Healy. Inishmurray is a holy island, once a place of pilgrimage and the site of an ancient monastlc settlement, the establishment of which is attributed to St Molaise. Two of the island's churches, Teach Molaise and Templemolaise, bear his name, although little is known about him
It must be admltted geese rather than prayer were initially uppermost m the thoughts of the party, at least, in mine. When travellimg by sea to any island once settled by early Christian monks, the modern visitor it left invariably in awe of the daring, faith and apparent recklessness of the zealous holy men who, centuries ago, rowed treacherous seas in tiny boats to colonise these remote sanctuaries.
Looking towards land, the Sligo coast appears quite low lying, with none of neighbouring Co. Donegal's dramatic cliffs. Roughly opposite Mullaghmore, some 10 miles out to sea, lies Inishmurray or Inis Muireadhaigh, Muireadhach's Island.
Writing in The Way That I Went (1937) Robert Lloyd Praeger described it as "a low islet, a couple of hundred acres in area, much exposed to Atlantic storms; yet the place is full of early Christian anitquities, pointing to considerable importance in old days; and it still has a poplulation numerous in relation to its size and agricultural possibilities, largely dependent on fishing for its livelihood." In Praeger's time, the island did have a small community, one which had been re-settled about 1802 and peaked about 1880, when, according to Dr. Patrick Heraughty, an islander who left to study medicine and later wrote an account of the island, "there were 102 people living in 15 houses".
Heraughty also provides interesting information about another island industry, the making of "poteen" of which he notes "it was never called by that name on the island. It was known as 'whiskey' ... Poteen-making and its sale on the mainland soon became the principal economic activity on Inishmurray".
By November 1948, a gradual pattern of emigration initiated by poverty, war, economic flight and dreams of life elaewhere, waa no longer countered by islanders returning home, and resulted in the final desertion of Inishmurray. No cattle or sheep graze here. The birds share the island with the rabbits, who dart here and there as if living in a giant fox-free adventure playground.
In late sprnig it is easy tp traverse and investigate the island and its many ecclesiastical treasures, as the summer growth has not yet taken over. The sea pinks are only beginning to bloom. But within weeks the vegetation, grasses, reeds and all conquermg brambles. will be running riot. Tiny ferns, currently just pushing beyond ground level, will cover the land.
Territorial gulls wheel overhead, in contrast to the fulmars who glide on straight, extended wings. Eider ducks nest here, in one of the largest colonies in Ireland, as do arctic and common terns. Storm petrels the smallest of Ireland's seabirds, flit abnut. Black guillemots float on the wateer.basking in the sun., occasionally flying to shore to perch, affording us a glimpse of their distinctive bright red feet.
Almost immediately on arrival, it must be conceded that the barnacle geese so astutely described by ornitlologist David Cabot as "evoking prim Victorian spinsters dressed in black velvet and white lace" have already left - their early departure influenced by the late spring's freakishly warm weather.
It is disappointing. If their appearnance is prim, their behaviour is gregarious. Wintering in Ireland from October to April, some 2,000 have been grazing in Lissadeill by day, and flying out to the island by late afternoon to avoid marauding foxes.
Abundant droppings are all.that remain of this important flock's recent presence on Inishmurray.
Some bird-watching compensation is available courtesy of the shags, many of whom oblige by posing on rocks and stone walls, drying their wings. If the geese resemble Vectorian spinsters, the shags possess a slinky, oeiental glamour and would probably look at home in a Berlin nightclub. Slightly smaller than the cormorant, the shag has a green black plumage, and now, during the breeding season sports a jaunty little upstanding head-crest adding to the drama of its silhouette.
Up beyond the rocks from the harbour at Clashymore heading east lies the island proper. Inishmuriyy is very flat and composed pf sandstone covered by a largely wet, peaty soil. A row of 15 now long-ruined, modest, 19th century houses, visible on approach above the low southern cliffs, remain along a green street of soft mossy turf, a surface that is pleasant to walk on. The names of islanders are painted on both sides of a doorway which no longer contains a door. As a streetscape of deserted buildings, it offers an eloquent, self-contained chapter of Irish social history.
However romantic it may appear on a beautiful late:spring morning to the day tripper intent on bird watching and archaeology, the deserted modern settlement says a great deal about the hardship of an Atlantic island life. There was no hospital, and travel to the mainland, always dangerous, was impossible in winter conditions.
A school building, still roofed and standing, dates from 1889. Today it houses a number of cross slabs locked inside. At the tune of final evacuation in 1948, 46 people, members of six households, were still resident. These people and earlier generations, includmg the islanders who greeted artist Gabriel Beranger and his friend, the Italian theatrical designer, Angelo Maria Bigari - the women folk lined up to be kissed when the pair arrived on June 24th, 1779 - had lived their days in the presence of the ecclesiastical remans, much of which are contained within the stone wails of the cashel, or enclosure.
Situated in a slight hollow in the centre of the island. the cashel is a wonder. Within is a range of stone buildings including beehive cells, churches, carved stones and grave slabs. At its height, the site must have been impressive, and still is. The Vikings raided at least twice; first in 795 AD and again in 807 AD
In addition to serving as a monastery it was most likely an active pligrimage destination. Within the enclosure is the men's cemetery that was still in use in the 1940s. About 150 metres beyond the cashel wall, is Templenaman. A smaller stone enclosure, it houses the women's church and burial grounds. There is a third, smaller cemetery in which evidence of mixed burials was found during excavations
Features of the turas, drystone cairns or leachta, are found in the enclosure and throughout the island, all acting as stages or "stations" in a pilgrimage route, some of which might also have been used as outdoor altars. Always of interest to the visitor is the Clocha Breaca or cursing stones - the repositioning of which was vital in despatching an effective curse upon a chosen individual. With its range of buildlngs, stone work and carved slabs, as well as spectacular seaviews, lnishmurray is an extraordinary site. Far from being desolate, it has endured, sustaining a sense of permanence.
Slttmg on the long stone ledge inside the beehive hut, light entering through the low widow, is both peaceful and exciting. Of the many beautiful monastic early Christian sites found thoughout and offshore Ireland,. Inishmurray, now a glorious bird sanctuary, is one of the most complete and atmospheric, with a long history of, albeit intermittent settlement, stretching from the 6th to 20th centuries.
# Inishmurray; Archaeology Ireland Heritage Gulde No18 is available from Archaeology Ireland. Tel: 01-2765221
Reproduced with permission from Eileen Battersby